Sofia Rybrand (Karlsson)
Konstnär baserad på Kinnekulle, Götene. Artist based in Götene, Sweden.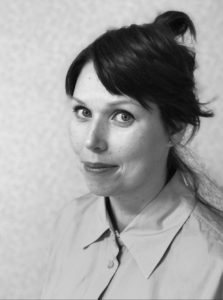 Ateljé Kestad Tallbacka, Götene.
Memeber of: KRO (Konstnärernas Riksorganisation) and KC Väst, KIM – Konstrundan I Majorna.
Utbildning/Education:
2011- 2013 Bachelorprogramme fine art, Valand Academy, Gothenburg, Sweden.
2010- 2011 Bachelorprogramme fine art, Konstfack, Stockholm, Sweden.
2009-2010 Idégestaltning, Göteborgs Konstskola.
2007-2009 Konstnärlig grundutbildning inriktning skulptur, Göteborgs Konstskola.
2005-2007 ABF kroki och modellteckning, måleri.
2014 Kurs i Screentryck Konstnärernas KollektivVerkstad , Gothenburg.
2014 Ängen Återuppförd 7,5 hp Valand Academy, Gothenburg.
Representation
Västra Götalands Regionen köpte 2019 in två verk. "Hare" och "Nattfjärliar"
Grants/awards
2017-2019 Göteborgs Stad Ateljéstöd
2017 Projektstöd Skaraborgs Kommunalförbund inför GIBCA Extended.
2017 Omkonst Stipendiet Dialogen, handledning med konstnär Maria Hall.
2014 Projektstöd Pronto! Göteborgs stad
2014-2016 Göteborgs Stad Ateljéstöd
2012 Gyllene äpplet Falbygden Mat och Kultur. – With Felicia Bodin.

2009 Göteborg Konstskolas elevstipendium.
Exhibitions/Performance:
2020 Rydenska Huset Lundsbrunn, Att vänta, separatutställning.
2019 Kungsbacka Konsthall, jurybedömd Vintersalong, 3 verk antagna.
2018 Tuve Bibliotek, Göteborg. Hidden and exposed. Separatutställning. Teckning.
2018 Cover illustration for Phd Thesis, Göteborg Universitet.
2017 Galleri Box, Göteborg. Cash Box, försäljningsutställning. Deltog med 1 verk.
2017 GIBCA Extended, Kulturhuset Filialen, Falköping. Tunna Platser. Film, samarbete med Felicia Bodin.
2017 Nemeshallen, Mölnlycke Kulturhus, Härryda. Everyday Landscape. Separatutställning med Felicia Bodin. Teckning, brons, installation.
2016- 2017 Utställningshallen Öckerö Bibliotek, separatutställning, Vid Sidan Av. Teckningar, stenskulptur, brons, installation.
2016 Frölunda Kulturhus Frölunda Salongen, juryutvald konstsalong för konstnärer i Västra Frölunda. 3 st teckningar.
2016 Tredje Långgatan 13A Göteborg, I am not dependent on empathy or imagination. Samarbete, platsspecifik utställning med Stina Brännström och Felicia Bodin.
2016 Femart, feministic art history writing. Renenactment of self portrait by Elisabeth Vigée Le Brun. Photograph.
2015 Galleri Bildkällaren, Falköping. Project Lillith. Konstnärligt samarbete, kvinno- och transseparatistisk utställning.
2015 Cre Magasin, Lamentations – The third song./Klagovisorna – Tredje sången. Performance.
2015 Galleri Plywood, Plywood Banquet, Göteborg. Felicia Bodin och Sofia.
2014 Separatutställning Galleri Mors Mössa, Göteborg. Längs gränsen. Teckning, ljudinstallation.
2014 Göteborgs Konsthall, Ängen återuppförd, gästspel. Låt dina kråkfötter vila på mitt huvud 14/9 2014.
2014 Öckerö Konsthall Låt dina Kråkfötter vila på mitt huvud film, performance. Ängen återuppförd.
2014 …And they operate from a certain position. Outlaw Shit (Are you ready for a truck full of love?) Performancefestival, Fylkingen. Stockholm. Felicia Bodin & Sofia
2013 GIBCA Extended, Rage and Tumble in the asphalt jungle. Installation. Felicia Bodin & Sofia Karlsson
2013 Frilagret, Almost Over: Whats the word. Den omöjliga trädgården. Installation. Curator Fatima Hellberg.
2013 Gallery Rotor 2, Valand Academy. Experiments on Reminiscence. Sculpture, soundpiece, drawing and book.
2012 Konstnatten Falbygden 2012, TRAKTORBALETTEN – Performance i samarbete med Felicia Bodin och Frozen Iller.
2012 Galleri Rotor, Konsthögskolan Valand. Valands vårutställning 2012, Animal extension – performance by the Deerstalker
2012 Valand Fanzine & Artistbooks, Galleri Vända Sida, Linköpings Stadsbibliotek , 2012.
2012 Galleri Rotor 2 Konsthögskolan Valand. Den lilla döden. Roedeer Revolt (Zone of exchange) Group exhibition. BA2.
2011 Galleri Rotor 2, Konsthögskolan Valand. Autocomplete Me. A RoeDeer Story Work in process exhibition.
2011 Galleri Bezdomny, Gothenburg. Fever at Bezdomny. Om västen kunde tala Collaboration with Felicia Bodin.
2011 Teater Cinnober, Gothenburg. Sex timmar scenkonst. Art begins with the animal Teater Nu   Samarbete med UTRUM.
2011 Royal Academy of Art, Stockholm. White Zoo & Black Powers  The deerstalker and the territorial house Kungliga Konsthögskolan.
2011  Konstfack, Stockholm. Årskursutställning  The Deerstalker Kandidat 1 Konstfack 2011
2010 Galleri Konstepidemin, Gothenburg. Idégestaltning Göteborgs Konstskola 2010 Galleri Konstepidemin
More
2015 Workshop Öckerö Bibliotek, Masker. With Felicia Bodin.
Collaboration:
Collaboration with Felicia Bodin, visit our homepage here.
Member of artcollective  UTRUM.
2009 Göteborgs Konstskola. Victor Starlet Film+foto Visning Göteborgs konstskola.
2009 Lagerhuset Gothenburg. Carina, Stella, Jules. Film+foto blogg (K-merkt platsens utrymme 2011)
2010 Galleri 54,Konstkarusellen. Gränser. Video.
2011 Lagerhuset Gothenburg.Utrum goes internet. Performance. K-merkt, Platsens utrymme.
2011 Stora Teatern, Gothenburg. What is your need? Skulptur. I samarbete med Kultur och ungdom.
2011 What is your need? Skulptur.  Utopia
2011 Teater Cinnober, Gothenburg. Art begins with the animal.Performance. Sex timmar scenkonst, Teater NU.
2011 Outside Stora Teatern Gothenburg. Opening ceremony at Göteborgs Kulturnatta, installation bubbelplast.
2012 Konsthallen, Gothenburg. "Art takes time" performance  Konst+Aktivism,  Kultur & Ungdom.
Comissions/Public art:
2010 collaboration with the choir  Rabalder. Video.
2008 Göteborgs Lustgårdar (Liseberg) Sculpture.